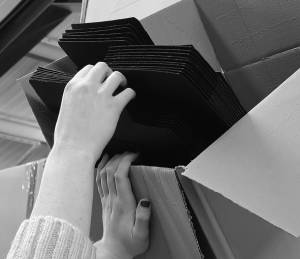 Picking
Collecting and packing the contents of an order – small or large – can be a time consuming process with a high chance of error. We aim to change this by using an efficient process management system (such as pick lists). In doing this, we can minimise the time it takes to fulfill an order & reduce human error, resulting in a quicker turnaround and completion.
With our large warehouse, your products will have their own location and organisation, making the 'picking' part of the order process quicker and easier. Inventory lists are also available on request, and are updated after each order that is picked.
Packing
Once all items are collected for the order, they are packed into double-wall packaging, surrounded by bubble wrap and finished with fragile tape if your product requires it. We source the highest quality packaging possible, thus minimising the number of breakages/returns, which reduces cost and results in a happy customer!
We can source all packaging, but you also have the option of sourcing your own too – this all depends on how much you want us to do as we want you to have as much or as little control over the process as you want.
Once all orders are packed, they are then ready for tracked dispatch via our couriers.